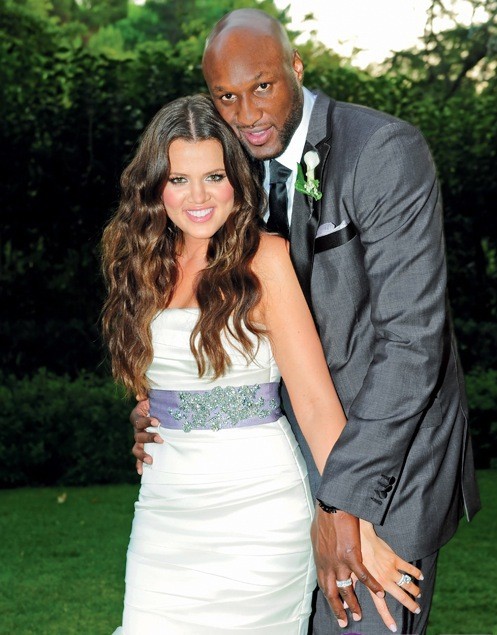 Khloe Kardashian has stayed by estranged husband Lamar Odom's side throughout his terrifying near death experience. She hasn't left his hospital bedside since Oct. 13 and now that he's out of a coma, rumours are swirling that Khloe has considered calling off their divorce.
An insider told the Hollywood Life that Khloe is wondering if she should give their marriage another try. But the alleged snitch says don't read too much into it. Khloe's fears of losing the love of her life probably made her rethink their future together.
"Look, it's crossed her mind. The man she loves with every fiber of her soul is fighting

for his life. Yes, of course she's thought about calling the divorce off for a second, but then her focus went right back to him."
Kardashian, 31, and Odom, 35, signed the divorce papers back in July, but the paperwork was never processed. Kardashian is still legally married to Odom, which means she's in charge of all of his medical decisions. That also means that she's also Odom's legal next of kin.
Lamar also did not let divorce get in the way of his feelings, because he did not disinherit Khloe even though they had a prenup, separating her money from his.
Multiple sources familiar with the situation tell TMZ Lamar does not have a will. Under the laws of California, if he were to die, Khloe would be entitled to 1/3 of Lamar's personal fortune. His kids would get the remaining 2/3.
There's no fighting it ... the law is the law. We're told Khloe doesn't care about his money or want it, but the fact is, she's still his wife and she gets 1/3.
Our sources also say Lamar has several life insurance trusts, making both Khloe and his kids beneficiaries.
Making the heavy decisions and staying by his side has made Khloe Kardashian exhausted and drained, but she wants to be there for her estranged husband.
"Khloe's in this for the long haul. She's not thought of moving from Lamar's bedside. Khloe's right where she needs to be – with Lamar – with her extended family. And at this point, she has no intention of leaving Lamar's bedside."
The NBA star is showing signs of improvement, which is a welcomed "miracle" to his fans, friends and family.